"stand beside her
and guide her..."




TM Tractor Parts
Specializing in Farmall Cub & Lo-Boy
Welcome to TM Tractor Parts
---
We deal primarily with the McCormick Farmall Cub,
International Cub, and International Lo-Boy, offset series tractors.
---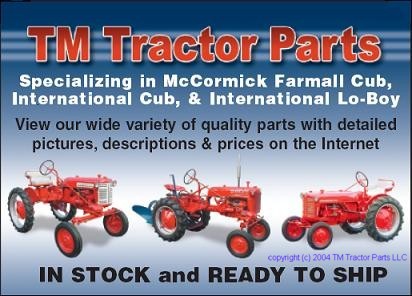 We research suppliers to bring you the best value, quality, and fit for your Cub.
We buy from several sources, bring the parts in-house, and try them
on many of our own tractors. We also work directly with manufacturers
to bring you replacement parts not available anywhere else.

When you visit our web pages, you will find items of the highest quality,
most made right here in the USA.

Our goal is to be your online source for Farmall Cub and Lo-Boy parts.
We hope you enjoy doing business with us!
**
New Parts For Sale **


Copyright © 2001 - 2020 TM Tractor Parts
A division of Windy Hill Restoration LLC
Farmall® is a registered trademark of CNH America LLC.